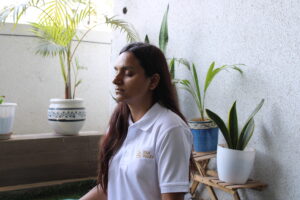 Renuka Chimaji is a TTC Certified Yoga Instructor. In addition to a Diploma in Yoga, Reunka is a Yoga Prabodh fellow and a Yoga trainer at Yoga Vidhya Dham. Reunka's expertise range from Beginner to Advanced level of Yoga.
Reunka Chimaji, with _________ years of experience as a yoga trainer, has gained a reputation in the field. Her expertise is Sajeevani Yoga, Meditation, Prenatal and Post Natal Yoga, and Yoga for PCOD & PCOS, Yoga for Kids. Ms. Chimaji has also conducted multiple Yoga sessions at corporate organizations and schools across the country.
Reunka Chimaji is a strong believer that Yoga when included in our daily lives has the potential to strengthen our body, mind, and soul.